A DNA Paternity Test is the most accurate method of establishing whether or not a person is the biological father of a child. Establishing paternity is important for the child and for the parents. Paternity testing may be required where it is necessary to prove a relationship between alleged relatives, such as disputes over child custody, child support, or estates claims.
The Paternity Test carried out by McPherson Physicals is a Legal Paternity Test, with court-admissible results.
Getting a paternity test can be a stressful time, so we are here to make it as comfortable as possible.
What to Expect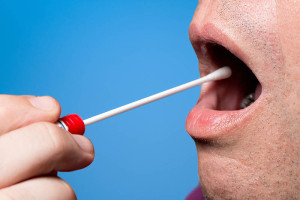 Paternity testing does not need to be a scary thing; it is fast, easy, and painless! Here's what you can expect when you come to McPherson Physicals for a Paternity Test:
A buccal (mouth) swab collection is taken from each person. This involves a swab from inside the mouth with a Sterile Polyester Tipped Applicator. It only takes a few seconds to collect the sample.
All individuals involved will have their photograph taken at close distance.
Thumb prints are required for child support collections only.
You must bring in Formal Identification. This ensures the results of every paternity test are court-admissible. Examples of Formal ID accepted:
Government Issued photo ID, Driver's License, Military ID, or Passport.
If the child is under the age of 18 and does not have photo ID, that child's Birth Certificate is required.
If the parent is under the age of 18, or is legally incompetent, their Legal Custodian's signature is required.
Our test includes up to three individuals. Some examples include:
Mother | Alleged Father | Child
Alleged Father 1 | Alleged Father 2 | Child
Alleged Father | Child 1 | Child 2
Samples from all individuals DO NOT need to be taken on the same day, so each party can come separately if desired.
All testing at McPherson Physicals is treated in the strictest confidence. Any information about the Paternity Test will only be communicated to those tested. The results will not be provided over the phone.
Your DNA samples are processed in a secured facility that has established screening protocols. This guarantees the utmost privacy and security of all samples and personal information.
We're here to answer your questions or concerns at any time
– Before, during and after the DNA test.
We use the most advanced lab for our DNA testing
Quality testing using state-of-the-art equipment
Exhaustive analysis by highly experienced scientists
Accurate results