Employers: We make your job easier!
Drug Screen Authorization Forms customized for your business
Electronic forms for setting up drug screens using FormFox
NO sick people on our clinic – ALL we do is PHYSICALS
MINIMAL waiting – so your employee is back to doing what you hired them to do WORK
Drug Screen Authorization Forms
The U.S. Department of Labor has reported that drug and alcohol abuse in the workplace causes 65 percent of on-the-job accidents and that 38 percent to 50 percent of all workers' compensation claims are related to the abuse of alcohol or drugs in workplace. 
We will create you a personalized form for your company, so that sending your employees in to our office is systematized & well structured.  If you do not use FormFox, you can send in your employee with one of our Auth Forms.
Example of an Authorization Form customized for your business: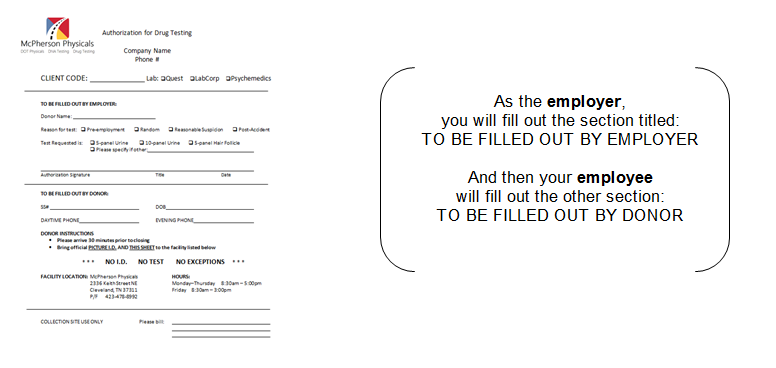 Drug use among employees can be an expensive problem for business and industry, with issues ranging from lost productivity, absenteeism, injuries, fatalities, theft and low employee morale, to an increase in health care, legal liabilities and workers' compensation costs.
Get your employees drug tested at McPherson Physicals!
Pre-employment … Random … Post-accident … Reasonable Suspicion
Resources:
Form Fox
We use a new awesome program called FormFox!
No more filling out paper Chain of Custody's!
FormFox is a web-based software application utilized by drug testing collection sites for managing the specimen collection process; and associated record keeping, administrative and management tasks.
This software driven process results in fewer mistakes by enforcing protocol and validation procedures
Pre-ordering gives full control of key donor and service information, eliminating confusion
Automated and electronic distribution of data and digital forms allows for faster turn-around times, leading to quicker decisions!
Of the many ways FormFox enhances the specimen collection process there are two key improvements over the traditional paper form process:
First, FormFox provides a mandatory procedural template that guides the collector step-by-step and validates entry and suitability of required data.
Second, FormFox generates an accurate and complete Custody and Control Form (CCF) that can be distributed in either an electronic or paper format, ensuring downstream parties such as the laboratory and Medical Review Officer can complete the drug test in a defensible and timely manner.
Employers can fill out donor information online prior to sending employees in for drug screens.
Employers print out the authorization letter directly from Form Fox, send the authorization letter with that employee to the collection site, and we can pull them up with quickly and efficiently just by scanning that barcode.
FormFox can be used for Urine Drug Screens & Hair Follicle Drug Screens
Physicals
Physicals – IT'S ALL WE  DO!
Pre-employment physicals
Return to work physical
School physicals
Sports physicals
Teachers' physicals / TN Board of Education physical
Forklift clearance forms / physicals
Child care provider medical report
Nursing Program physical
Department of Transportation physicals (DOT)
eScreen physicals
Wellness physicals
Insurance physicals
Send us your requirements / any special forms, and we will be glad to service all of your employees' physicals.
Samples: